With an unprecedented capacity of 31.25″ x 37.5″ the new Marvel Series 800 is the Largest Vertical Tilt-Frame Band Saw in the World.
Click below for more info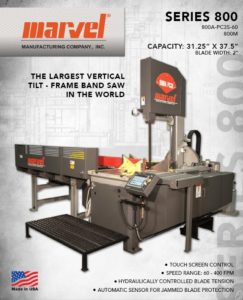 Capacity:
Nominal – 31.25″ x 37.5″
45° Right – 31.25″ x 25.5″
45° Left – 31.25″ x 24.75″
60° Right – 31.25 x 17.5″
60° Left – 31.25″ x 16″
Blade Drive:
15HP 1800RPM 60 to 400 FPM
Vector Control for smooth acceleration and full torque
Touch Screen Control:
Speed, Feed and Angles are selected using the convenient touch screen control
Easy Load Blade Guides
Coolant System:
Built in Flood System with optional Drop Lubrication system.
Mt. Penn is an award winning factory authorized full line distributor for Marvel.
MACHINE SALES * BLADES * PARTS * SERVICE * PREVENTIVE MAINTENANCE
Call the sawing experts at Mt. Penn Tool to discuss your specific sawing requirements.